Name: Kuraiyami Hana
Rank: N/A
Age: Looks 18, Is actually 400+
Appearance: Black/Purple Hair that drops off at the top of her hips; Deep Black eyes; She never has a smile on her face, when at school she weres a dark black dress with purple frills as details going on about her own rules about the school uniform. Along with the dress she also weres high-healed boots that cover a small marking on her right ankle.
Gender: Female
Personality: Kurai is usually a quiet girl who does not speek much but feels it nessasary to speek when needed or asked. When haveing a friend hurt or someone she does not even know, she will do her best to protect that friend or person. When hearing something stupid from a division member or other wise she cannot help herself but to call him/her a NitWit. She also gets bored easly & would do anything to cheer herself from that by eather reading a book, practiceing agenst another division member, or just plainly looking to the sky. She loves fighting & finds it funny when someone that she is or was currently fighting makes a simple mistake. She has been known to go over the top & attack without warning when someone really makes her mad. Also when fighting she cannot help herself but use every bit of spirit energy she has/had.
Division: 7th
--------------------
Hair Color: Black/Purple
Likes: Black roses, makeing perfect grades in school, friends, cloudy weather & looking to the sky.
Dislikes: Bad grades, irrogance, sunny days & friends being hurt.
Crushes: Someone who acts like theirself & soes not show of & She also likes smart men with good hearts.
--------------------
Specialties: Reading, writeing, acrobats, swimming, running, gymnastics & getting good grades.
History: Kurai died when assassinated by a robber, & wandered that area around her home for days & also saw her wake seeing that some people were jelous of her while her mother & father cryed over her coffin. She joined the 7th division shortly after she was helped by another shinigami to reach her afterlife & also become a shinigami. Afterwards she would not fight much but would when needed but usually would just look to the sky while fighting a hollow imageing them to be the robber that killed her.
She has protected everyone close to her & even some people who she does not even know due to haveing a close freind to her heart die from a arrancar. She never got to kill that ceirtain arrancar for that fact; But then heard that another shinigami killed it for her. She grew in hatered in her eyes after that & almost consitered leaveing the 7th division. She now only talks to people who know her well or she knows well & barely opens up to anyone.
Picture of Character: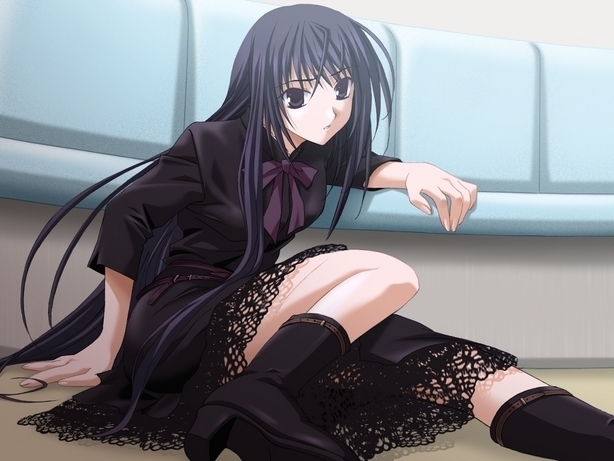 Sample Chapter:
"Come on..." Kurai muttered trying to wash a greese stain from a black frying pan. Today was friday, the only day she was off of work & had to do major chores around the house. Kurai growled softly grabbing the steel wool from the corner of the sink & forseing it on the pan rubbing it down hard untill it came off. A small white apron with afew light staind hung from her neck & attached around her wait to avoid any liquids to touch her outfit.
She sighed gently placeing the pan on the drying rack then took the sponge & washed off the inside of the empty sink then proseeding to whiping off the kitchen counter with it untill her doorbell rung. "Comeing!" She shouted as she put the sponge on the corner of the sink & began takeing off her apron. She hung her apron on a small hook on the back of the main door & then unlocked the dead-bolt, then the door lock it self.
"Package Mamn." A man said standing on the front step of her house holding out a medium sized package & holding a clip bored with afew papers & a pensil on it between his arm & the side of his body. "Thank you.." She said softly & took the package than writeing her signature on the clipboard. "Thank you miss." The man said after Kurai handed back his clipboard & pin as he turned around, got in his van, & drove off. Kurai sighed gently closeing the door & re locking it again then placeing the package on the table looking at it.
'What could be in it?'
She thought in her head trying to make up a decion to open it or not. She sighed slightly makeing her mind up as she grabbed a small steak knife from the kitchen & began cutting the corners of the box open. As she opened it fully she pulled out a small plastic box with afew colectable knifes in it. She laughed softly seeing this then reoconizeing that she ordered these about a month back. She sighed gently placeing the plastic box on a small shelf close to the dineing table which was full of other knifes includeing, whinchester knifes, army knifes, shark tooth knifes, even a plastic butter knife that she forgot to throw away.